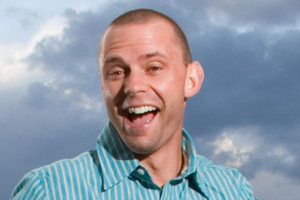 Favorite Candies – Jelly Beans & Autumn Mix Candy Corn
Favorite Activities – Running, Cycling, Strength Training
Lonnie is the president and owner of Hal Sports and the founder of the The Great Candy Run and the foundation it supports, the Fetal Health Foundation. Lonnie has over 15 years of experience in many areas in the event industry in producing and timing/scoring endurance sports events. Lonnie also is a recognized professional event announcer for many high profile events. Lonnie is the Chairman and CEO of the Fetal Health Foundation, an organization he and his wife founded after fetal surgery saved their identical twin daughters. He created the successful national Race for Fetal Hope 5K Run series (now The Great Candy Run).
Background
Additionally he has over 20 years experience in various financial, accounting and operations executive management roles. Formerly, Lonnie owned a consulting firm that specializes in investment banking consulting, risk management, finance, accounting and operations consulting. Prior experience includes CFO & Director of Operations with a national GIS firm, served as controller and various executive positions for Cherry Creek Venture Partners' majority owned businesses, and served in various executive positions with both start-up technological companies and fortune 500 companies such as Arioso Corp., T-Netix, Inc., Waste Management, LocalTouch Directories (US West Subsidiary) and Disney.
Lonnie completed his Bachelor of Science degree in Accounting with Summa Cum Laude designation from Regis University in Denver, Colorado, and is a licensed CPA.  Lonnie enjoys time with his family, running, and cycling.
Why the Great Candy Run?
No parent should ever have to accept that there is no hope to save their child's life. Having battled TTTS, a serious fetal syndrome, we experienced firsthand the power of hope. Thanks to vigilant seeking of information, we were able to reach hope. For us, our miracle worker was Dr. Quintero who saved our babies lives. Today we have two beautiful healthy twin girls. They have no affects, health issues or otherwise from their battle for survival. We know we were very lucky to not only have them survive, but without any adverse effects is nothing short of a miracle.
With our battle a success we could have easily taken this victory and returned to a normal life. However, that was not us and we knew that awareness was the key to providing hope to others being affected.

- Lonnie Somers
How It All Started
In 2004, Lonnie left his full time position as a CFO and spent the next eight months creating The Great Candy Run (previously Race for Fetal Hope and TTTS Race for Hope) organization and event. The event's mission is to raise awareness through its events, support other organizations missions in fighting fetal syndromes, and fund medical research. Within its 10 years, the Great Candy Run and related events reached more than 5 million people directly and indirectly through its events and awareness campaign and raised more than $350,000.
In 2006, the Fetal Health Foundation, a 501(c)(3) non-profit charity, was Founded. Fetal Health was created to align a truly patient supported foundation to the leading fetal maternal medicine centers and doctors around the world, to support additional fetal syndromes that are not currently supported by other organizations, to provide factual medical information on fetal syndromes, to provide unconditional support to families dealing with these syndromes, and to provide an outlet for the fetal medicine centers and doctors to publish and inform the public on new technologies providing hope to save our babies.
Everyday I have my two reminders, my daughters, as to the importance of making a difference. We know what might not have been.

- Lonnie Somers
Back to Staff Page