If you've run even a tiny bit, you know that an accountability buddy makes training and racing more fun. When we're there for each other, the training goes more smoothly, the support makes a difference, and we can celebrate together.
The same is true for teaming up at the Great Candy Run. You also get to be a crucial part of the Fetal Health Foundation's efforts to support families diagnosed with fetal syndromes, and to find treatments that give young families hope.
Here are five tips to make your team The Sweetest.
1.  Be the Captain.  
When you  register,  you'll be given the option to create a team or to be part of one.  Register early, give your team a clever name, spread the word, and see how many candy-crazy running, walking, and stroller-pushing friends you can bring together.
2.  Think Costumes, Think Prizes.
Show your team spirit by planning candy-themed costumes. (Alternately, show your team spirit by eating candy.)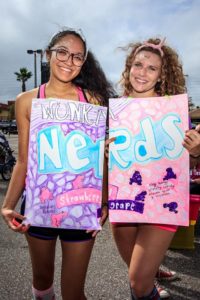 You'll be a hit, no doubt get some great photo evidence of your triumph, like these folks.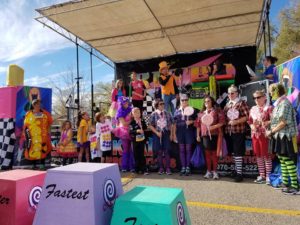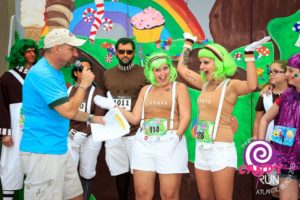 Did we mention there's prize money to be won?
3.  Create a Fundraising Page.       
Crowdrise makes it easy and quick to make a team fundraiser page so you can brag about your excellent team on social media. Some teams casually compete to raise money against other teams, or among themselves.  Dare your friends and relatives to make dressing in a candy costume and running in public worth it. Create a fundraising page for:
Minneapolis Great Candy Run
Denver Great Candy Run
You'll see an option to Set Up  Your Fundraiser.  Once you do, you'll be able to invite your friends to the team, and they'll be able to find it.  You can add pictures, and tell the story of why you are running.
4.  Share.
Spread the word about your good work on Facebook, Instagram, SnapChat, Twitter, and the newest social media our kids haven't told us about yet. We love it when people use our hashtags, #RUNSWEET and #GREATCANDYRUN
5.  Run, Have Fun, and Take Pictures!
Be prepared for the spotlight: race day means our fundraising teams are a REALLY BIG DEAL.
Register and Form a Team!